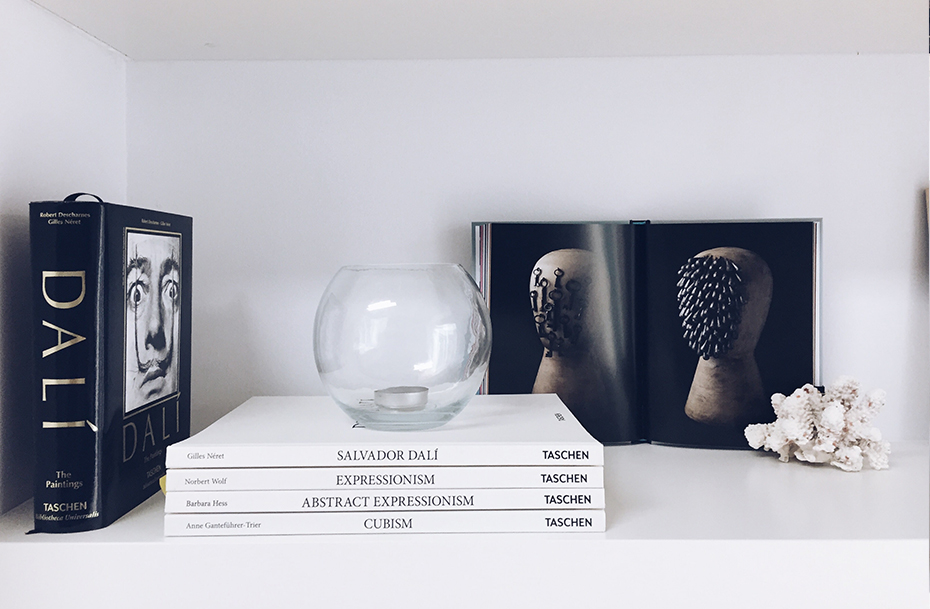 How to decorate your shelves: the minimal style
We all love those shelves or bookcases that look so clean and minimalist. It is very nice to display your favourite objects and books in a beautiful and pleasant way to look at.
However, sometimes it is hard to achieve the look that you are looking for. Too many books to store, too many decorative elements and stuff that won't make you (or your room) any good. Despite all the inconveniences, there is always a way to make it work.
Continue reading if you want to know how to decorate your shelves, and to have them beautifully decorated with the objects that you really love.
When I was designing my home renovation, I had clear that I wanted a beautiful built-in bookcase in my living room. I remember myself spending hours searching for the perfect composition and display for my ideal shelves.
I decided to leave enough space between shelves to keep it decluttered, and at the same time to be able to store a good amount of books.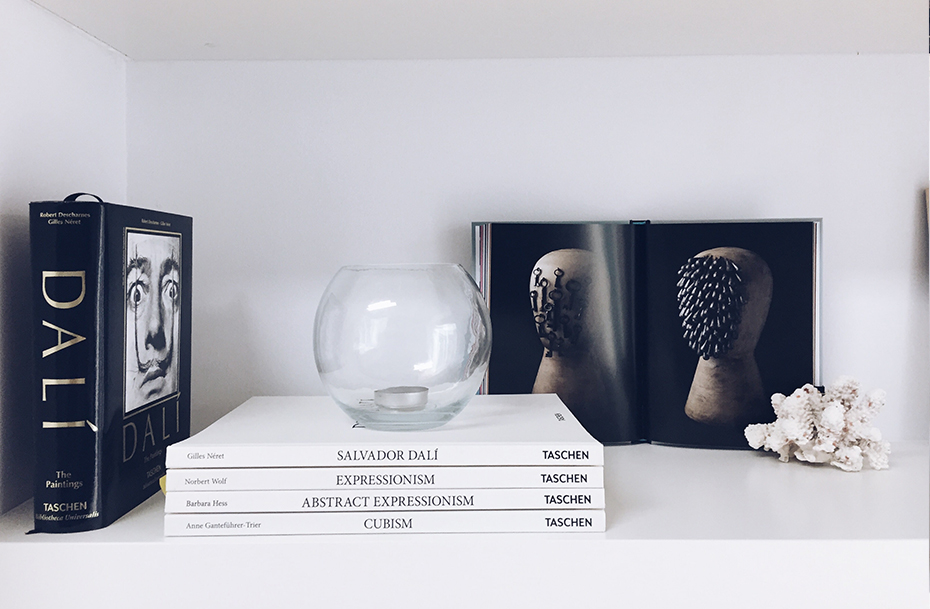 As a lover of monochrome style, I also knew that I wanted the shelves mostly white and black with some neutral colours. This is usually quite difficult to get if you don't choose the items displayed only for their aesthetics. Some of my favourite books have lots of colour on their covers and that was a problem to accomplish my monochrome goal.
Get a monochrome look for your shelves.
It is easy to find beautiful decoration and objects in neutral colours for a monochrome look for your shelves. Having your favourite books in neutral tones covers it's a matter of luck.
Fortunately, there are many tricks and ways to keep your books monochrome:
Sometimes it is as easy as just removing the paper cover of the book. The hardcover that is behind it, it's usually black.
If you are not so lucky and the hardcover has colours that you don't want to appear in your bookcase then, you can create a new cover. Using paper, (or other materials like fabrics) you can easily create a cover to cover the books. This way you completely decide the style and colour of it.
And last but not least, you always can turn around the books to display the paper edges instead of the spines. Always looking for neutral colours!
Once you know the colour theme and the look you want for your bookcase decoration it is easier to start and go for it.
Whether you like monochrome and neutral interiors like me or even if you prefer some splashes of colour, the steps to achieve the perfect styled bookcase are the same.
Keep it meaningful.
The first and most important step to get a beautiful styled bookcase or shelves is to select YOUR FAVOURITE (and only your favourite) books and items.
As Marie Kondo says: "when you surround yourself with possessions that spark joy, you'll create a home and a life you love".
Then, the first and most significant step is to select those meaningful elements that will be on your shelves.
With meaningful, I don't mean only items with a great story or background behind. Some of my favourite books and items are important or meaningful to me for many reasons. A book can be meaningful because I enjoyed reading it or because I learned something valuable with it, or simply because I love the pictures on it.
The same happens with a decorative element. It can be something I bought because I loved it, something I collected on a trip, some gift that someone gave me, or something I took from my garden.
Anything special and with value to you it is meaningful.
Another reason to style your books and organise them in a beautiful and practical way it's that it will invite you to use those books more often. It is like in a store. When the items are well organised and beautifully placed you like them all and can be spending a good amount of time looking at them.
A well-decorated bookcase will make you enjoy more that space in your home.
As this is the most important step, take your time to make it right and remember to enjoy the process. Once you have your items selected you'll be ready to start.
Simple tips to style your shelves: Step by Step
1. Select your favourite books and decorations:
As I said several times before, this is the most important step. It sounds pretty simple, but sometimes it is difficult to discard things that we have. Even if we don't use those things anymore and they don't mean anything to us, we keep telling us that maybe they will be useful in the future. But if they are not useful now, most probably is that they won't be useful later.
The best starting point is taking all the books and things you have around your home and that you think may look good in your bookshelf. You can display everything on the floor to be able to see it all together.
Then, you can choose and select which elements are the most valuable to you and also, the most valuable for that corner of your home.
In my case, as the shelves are in the living room, me and my husband mainly chose books and small items that we normally use in that room: candles, air freshener, indoor plants... If the bookcase was in the kitchen, for instance, I would have selected another decorative and useful items for that room like glasses, pots or tableware.
Always try to have items that serve both, decorative and practical uses for the room where they are displayed.
2. Empty your shelves:
Maybe you already did it selecting your items in the first step, but worth mentioning.
Start emptying your shelves if they are not already. It is better to start from a white canvas. It will be easier for you to keep it simple if you start with nothing on it.
Also, you will be able to see if the composition is working in a better way.
3. Make groups of books that are related:
This step is simple but also important if you want to display your books in a practical way. I think the best idea to organise books is by making groups by theme.
Some people organise their books by colours, but I think that is very complicated in terms of use. It is important to know where your books are and if they are displayed by theme it is easier to take a quick look and find the one you are looking for in a fast way.
Also, if you are like me and want monochrome shelves you don't need to worry about the colours of your books.
In case it can help you, I have grouped my books on these different themes: travel, cooking, art, creative thinking, poetry, philosophy, business and interior design.
That way it is super easy for me to remember where my books are and to access them every time I need.
4. Start placing your books leaving space between groups:
To create the "minimal" feeling that you are looking for, you need to make space between books. You have to see a big part of the wall or the background of your bookcase in order to make it right. Empty space should be your friend and it will help you to create a beautiful composition.
The best and most practical way is to jump into it and to start placing your selected books by groups in your shelves. Leave space between the groups. Decide where is the best place to put your creative books, maybe next to the art books or poetry books.
This way you also emphasize the different themes by areas of the bookcase or even by shelves.
Once you have your groups made and know where is the best place for them, it is time to place them in a beautiful way.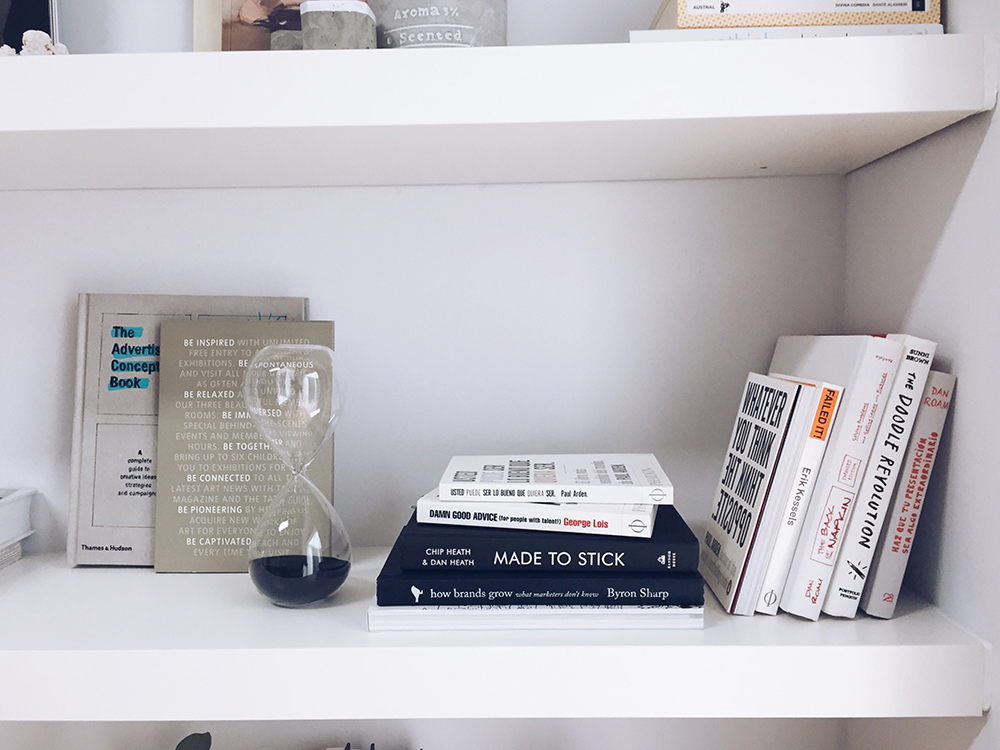 There are a few ways that you can place your books:
Place them vertically. Use the sides of the bookcase and bookends to hold your books if you are placing them vertically.
Place them horizontally. You can also use books placed in a horizontal way to hold those verticals.
Place them as if they were pieces of art. Another way to place your books is as if they were prints or artworks. Select the ones that have beautiful covers. If it has images, you can also use the inside of the book and place them opened.
I like to keep things as simple as possible, so I used pots, plants or candles as the bookends for my shelves.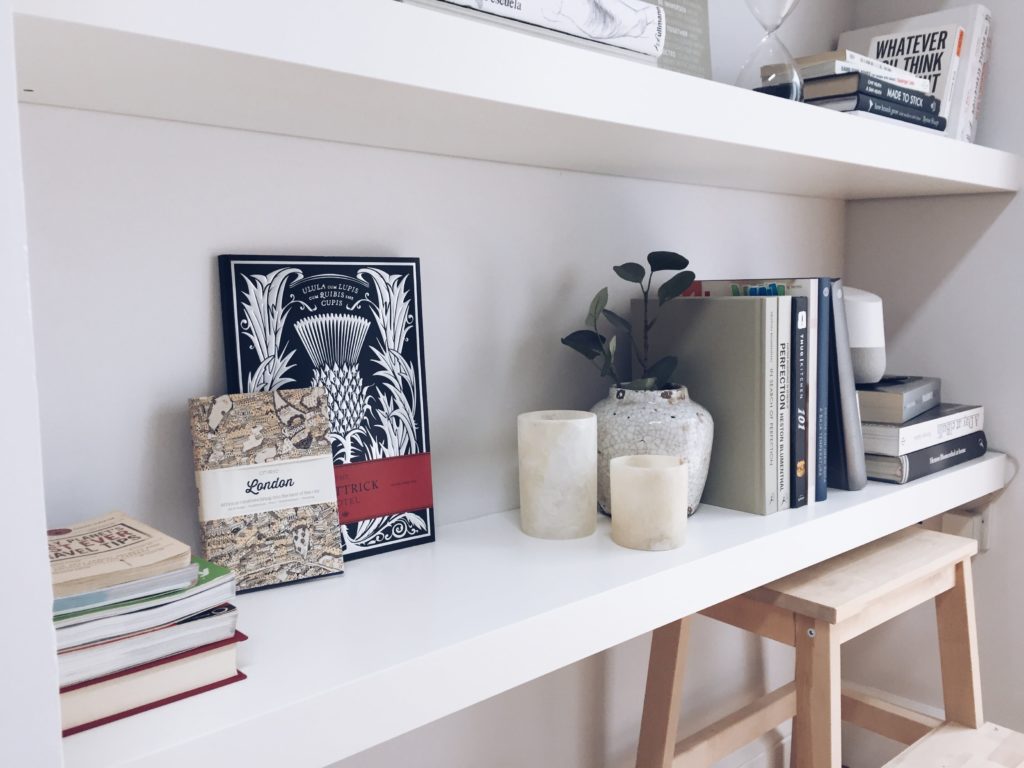 5. Time to style your shelves with decorations :
Your books are organised in a clever way and they are beautifully placed. Now you should have a great amount of empty space on your shelves. It's time to start playing with your decorative elements.
It would be good to make a selection of items with the same colour theme. If you have used candles and pots as bookends in the previous step, you already started to style your shelves with decorations.
Try to keep things simple and cohesive. It's all about trying to find what looks better. Basically, continue playing with the elements you have selected and placed them where it feels right.
Combine decorative items with books in a clever and aesthetic way.
These are a few examples of how to decorate your shelves combining decorative elements with books:
1. Be creative with your bookends.
You can use bowls, pots, vases, candles or rocks as bookends. Be creative! These items will hold your books and create interest in your composition.
2. Top your books with beautiful decoration.
For stacked books is always a good idea to put some item on top. It can be tall or small, depending on the high you want to achieve. Some candle or sophisticated accessory will do the magic.
3. Use big art prints or books as the accent piece.
If you use art prints (or a book as an art piece) it would need to be tall and big. You can place several sizes or books, the smaller ones in front of the bigger one. It is also a good idea to put some accessory like a vase or candle to complete the composition.
4. Or use any other accent piece that you like.
You can also place an item as the main focal point, such as a tray or a beautiful vase. Remember to add some smaller items in its sides to create more interest in the composition.
5. Use different textures and finishes.
Try to bring different textures to the scene. It always will be more interesting if you add natural elements like stone, wood or leaves. Think as well about metallic shades.
Tips to make the composition more balanced:
As you can see in the pictures, I placed the books in different ways to create different highs and volumes to make the composition more interesting. You also can get different highs placing objects on top of the books – as I did with my Google Home, the candleholder or the air freshener.
To create balance in your shelves have into account these points:
1. Try to create different highs and volumes in all the shelves.
If you start in one side of your bookcase placing vertical and tall elements (a tall vase, vertical books, plants…) you would like to continue with some horizontal or smaller elements. This will create movement and beautiful shape for your decoration.
2. Leave space between objects and groups of books.
Remember that empty space is your ally to achieve a minimal style bookcase. Besides getting that minimal style that you are looking for your home, leaving empty space will make your shelves look bigger and tidier.
3. Follow one colour theme.
If you like colour and you don't want to stick to monochrome shelves, that's perfectly fine. However, you should select the colour theme of your preference for your shelves. Too many different colours would create a messy look and the opposite look that you are looking for.
4 . Think in triangles.
Everything usually looks better in 3's. Three objects from a patter that make us see perspective, creating interest and engagement. Placing a tall and bigger item in the middle with two smaller at its sides works great. You can also go with a tall vase in the right a smaller candle holder in the middle-front and a medium candle holder on the left-back. Have fun and play with your accessories until you find the composition!
Don't stress if you don't find the perfect composition on the first try. It is good to make the first start and then wait for a couple of days to go back styling your shelves from a new point of view.
I keep changing my shelves from time to time, just because I get bored with how they look or just for fun!
Drop a comment and let me know if this has been useful for you to learn about how to decorate your shelves. Let me know if you have any question about it. I'll be glad to help you with your styling! It also would be very interesting to know if you have some more tips about how to decorate shelves in a minimal style!
Need more inspiration about how to decorate your shelves?
More ideas and inspiration about how to decorate your shelves: • S h e l f i e •
Ideas and inspiration about how to decorate your shelves with candles: • C a n d l e s •
Ideas and inspiration about how to decorate your shelves with plants: • P l a n t s •
All pictures on this website are property of The White Interior and Tania Estevez. If you want to use my pictures, please credit
www.thewhiteinterior.com
|
@thewhiteinterior
---