The Best Neutral Paint Colours
Choosing the right paint colours for your walls is vital to create a beautiful and harmonic design in your home. It is the background of the design and it has the power to transform any space.
Paint colours and trends change over time, but there are some colours that don't go out of style. They are trendy now and always, and they give your home a sophisticated and modern look. These timeless colours are neutral paint colours.
Neutral paint colours are the perfect background for any interior and they emphasize the design of your rooms. Whether you love fresh and bright interiors or shady and dark rooms, neutral paint colours provide the perfect setting for any design.
There are so many neutral paint colours and sometimes it can be overwhelming to choose the right neutral paint for your home. From warm creamy whites to cool grey whites, you can find a huge variety of shades with different finishes. The key is in choosing a colour that suits the light of your room.The differences between shades seem subtle but once applied in your walls, they will be affected by the light, size and furniture, giving a totally different mood to a room.
|| Interested in timeless interior design? Check Top 10 Timeless Interior Design Trends
Continue reading to discover a selection of some of the best neutral paint colours that you can find in the UK, and some ideas to know how to choose the right shades for your walls.
The Best White Paint Colours
One of the most beloved neutral paint colours is white. It ensures a blank canvas that highlights the interior design of any room. Moreover, white also brightens obscure spaces and it makes your rooms feel bigger and spacious due to the reflection of the light.
Therefore, white is the perfect paint colour for small and dark spaces.
However, it is very important to find the right white for your interior to ensure that you achieve the style you are looking for. In order to choose the perfect white for your rooms, you need to contemplate everything inside your room that will affect the colour. This is the light, furniture, materials, and surroundings that will be reflected, modifying the colour and the entire feeling of the room.
Best Pure White Paint Colour for small or shadowy rooms
These pure white paint colours are perfect for your home if:
You are looking to achieve bright, spacious and fresh interiors with a contemporary and a sophisticated hint. They are also very functional for ceilings, doors and skirting boards, giving contrast and complementing other tones on your walls.
Chantilly Lace (OC-65) – Benjamin Moore
A pure white paint, Chantilly Lace is one of the most versatile and neutral white shades. It looks great complementing any other warm or cool colour
Fair White – Edward Bulmer Paint
This is the perfect white paint if you want to bring brightness to your interiors but still a very subtle warm grey tone.
With a no-shine finish, this pure white paint is the perfect background for a any design. It is versatile and can be a great complement for any other colour.
Another option of high quality yet affordable pure white paint. Looks great in ceilings and woodwork.
Best Warm White Paint Colours for North-faced rooms
These warm white paint colours are perfect for your home if:
You are looking to add some warmth at the same time that brightness to your interiors. You should use these colours if the light of your rooms comes from the North to get a warmer mood.

White Dove (OC-17) – Benjamin Moore
A rich and creamy white paint that it is very popular among designers. This versatile shade looks great in any room and can be combined with other warm or cool colours.
Spanish White – Edward Bulmer Paint
This very pale warm white has the slight yellow ochre tone of natural chalk. It brings warm light and cozy atmosphere to any North-faced room.
A perfect neutral pale grey chalk that will bring a subtle and sophisticated mood to your room. You can pair it with any other colour.
A beautiful matt white with a hint of warm shade. Perfect as the white background for those rooms with cool light.
Best Cool White Paint Colours for South-faced rooms
These cool white paint colours are perfect for your home if:
You are looking for a contemporary and sophisticated mood in your home. South-faced rooms can get too yellow or ochre sometimes, and it can bring a vintage look instead of the right mood to your room. To neutralise the warm colours in your rooms you need to use cool white paint with blue and grey undertones.
Decorator's White (CC-20) – Benjamin Moore
Part of the Benjamin Moore Designer Classics Collection, this versatile paint colour can be integrated into a variety of design styles and decors. A classic white favourite, this slightly cool shade will enhance the mood and atmosphere of any living space.
The White Mist is the perfect shade to achieve a pure white in those rooms with warm light or, a slightly grey hue in cool light rooms. It makes any room brighter bringing a minimal and sophisticated mood.
Pure white with a slightly grey undertone, Rock Salt works great neutralizing the warm light of those South-faced rooms.
Strong White – Farrow and Ball
This cool white has light grey undertones that add a contemporary twist to period homes, while staying in keeping with modern properties.
The Best Grey Paint Colours
Grey is as versatile as white. It plays with a huge variety of mid-tones between white shades, warmer colours and cool undertones, that creates infinite shades and options to suit any style. From intimate dark grey to bright soft grey you can achieve different moods to your rooms depending on your style and your preferences.
Add drama with dark warm grey tones creating an intimate and strong atmosphere, or bring the light to your rooms with bright cooler grey tones for fresh and minimal interiors.
It is a contemporary alternative to the classic neutral palette giving sophistication and a serene feeling to the home. Perfect to bring cosiness to any room, grey also enhances the sense of warmth. At the same time, it can be easily combined with any other colour, both in other walls or decorative items that bring a colour touch to the room.

Best Grey Paint Colours
Cornforth White – Benjamin Moore
Extremely versatile, neither too warm nor too cool, this is the perfect shade if you are looking for a light neutral grey tone to add sophistication to your interiors.
This grey has a beautiful and subtle blue undertone and it can be easily combined with warmer tones.
Whale Gray (2134-40) – Benjamin Moore
A bold, saturated color that brings spaces to life for those looking for contrast and warmth in their rooms.
Another versatile option for a light neutral grey that could be paired with warm and cool tones equally.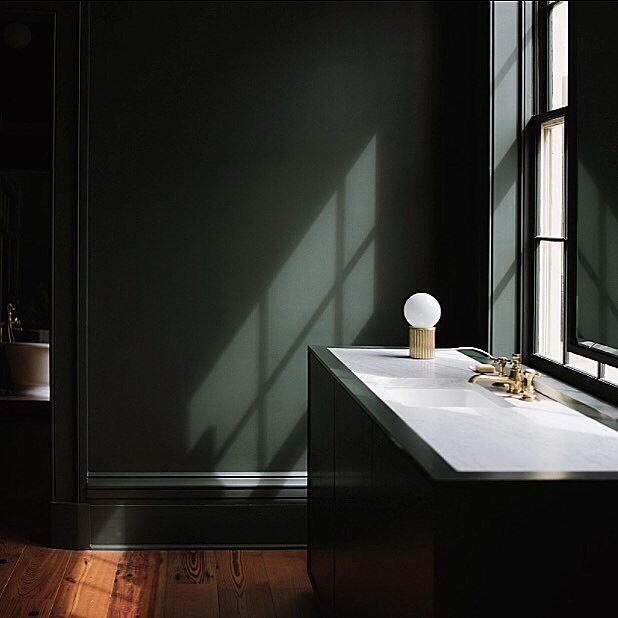 The Best Earthy Paint Colours
Earth tones are those colours that you can find in nature. Shades of brown and green that are warm and relaxing in a huge variety of undertones for each colour. They are inviting and calming, so they work great in living rooms, dining rooms or bedrooms walls.
Another quality is that earthy paint colours also pair with wood floors or other materials like metal or stone. They look great in different kind of styles and decor. From vintage style to minimalist, the secret is always to find the perfect tone for your walls to create the right atmosphere in your interiors.
Create your perfect retreat with these neutral warm shades that will make your home feel intimate and cosy at the same time that contemporary and stylish.
Best Earthy Paint Colours
A warm neutral colour with red and yellow undertones giving warmth and intimacy to any room. It is not too bold, looking good in any style and decor.
This chocolate warm shade is great to create contrast and drama in bright rooms. It has a red undertone that can be perfectly paired with any warm white colour.
Bring natural colours to your home with this beautiful warm neutral colour. It will work amazing combined with a lighter warm white colour.
Studio Green – Farrow and Ball
Bring nature and personality to your home with this dark green colour paint. The light will highly affect the tone of this shade, giving character and different moods to your room. Normally, it looks very deep and dark green. However, in a very bright room, it can appear much greener.
How to choose the right shade for your walls?
Now that you have a better underestanding of paint colours and some inspiration with the selection of the best neutral paint colours that you can find in the UK, it is time to select the right colour paint for your interior.
In order to choose the perfect colour for your rooms, you need to contemplate everything inside it. The light, furniture, floor materials and even other paint colours and surroundings will affect the colour once applied to your walls.
Light changes everything, and because of that, the most important thing to start thinking when choosing the right paint colour is which direction your home is facing. By now, you should know whether you have warm light or cool light in your rooms coming through your windows.
1. In North facing rooms use warm colours
For those rooms that don't get warm lighting (north-facing rooms) it is better to avoid cool undertones (like blue) for the colour paint of your walls, because this will make the room appear smaller and darker. You should go for warm tones instead, like light creamy neutrals to maximise the light in your interior. Use cool or pure white colours to create contrast on the woodwork.
2. In South facing rooms use cool colours
Depending on the mood you want to achieve, in south facing rooms you can use cool or warm shades in the same way. As the light in these rooms is more intense, you should have into account that whites with cool hues create a sophisticated and fresh atmosphere while, whites with warm undertones give a warmer and more classic look. If the shades have stronger yellow or ochre undertones you can also create a rustic style.
3. Think about the contents of your room
Now that you know which kind of light do you have in your rooms, it's time to think about what exactly it's inside. Think about the colour scheme of your floors, furniture and any item in your room. Then choose a colour that works with that colour scheme and that will elevate and highlight your interiors.
4. Think about the mood you want to achieve
Whether you are dreaming with a minimal and fresh mood for your home or a more intimate and dramatic interior, you will be able to get your style with a clever colour scheme and colour paint selection. Remember that usually, cool light shades add freshness and brightness to any room while warm dark shades create bold and cosy interiors. There is a wide range of possibilities in between depending on your style and preferences.
5. Tools that may help you to find the right colour for your walls
There are many tools that can help you to choose the perfect colour for you and your home. Check the Valspar Colour Tools for a very useful approach.
You can upload a picture of your space to find a matching paint colour or bring your Pinterest-inspired colour scheme to life.
It can be said that choosing the right neutral paint colours for your walls is not an easy task, but it is definitely important if you want to create the perfect mood for your space.

Don't panic and think about the options of your living room in a fresh and contemporary light grey colour scheme. Or maybe you can start thinking about adding warmth and contrast to your bedroom with a dark chocolate wall. Choose what you love. Possibilities are endless.
---
Would you like some help to find the right colour for your walls?
I'll be delighted to help you find the right colour for your home. Together we can think about the perfect mood for each room focusing on the features of your space, and your style. Take a look at my interior design services or contact me to start the beautiful journey to the simple beautiful living.
---